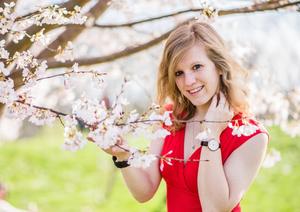 皆さん、こんにちは! Hello, everyone! My name is Teresa Fornoff and I graduated from UIUC in May of 2015. My major was EALC, concentrating in Japanese. I always knew I wanted to go to U of I and it was perfect because it was one of two universities in Illinois that offered Japanese as a major. I thoroughly enjoyed EALC, whether the class was a culture class or a language class. During my time there, I even joined the Japanese Conversation Table (JCT) held weekly in the basement of the union.
I have always held a profound interest in Japan, so what better way to learn about it than to go there? As soon as I got to UIUC, I immediately went about finding out how I could study abroad there. That is where I discovered the Year in Japan (YiJ) program, and it was one of the best decisions I've ever made. I got to live with a host family right in between two of the biggest cities in Japan: Osaka and Kobe. I experienced what a real Japanese lifestyle was like. I even went to a Japanese university to study anything and everything Japanese! We got to join clubs with the other Japanese students, and I decided on taiko. The group of study abroad students got to take amazing trips all over Japan (like Hiroshima, Miyajima, and Koya-san), and we visited Taiwan for eight days! It was like living a dream. This dream wasn't always easy, though. Living in another country is hard work. You have to make an effort with a brand new way of life, speaking a completely different language, and still managing everything like you would in the US while going through culture shock. Living in Japan may have not been easy, but it was rewarding. I would not have traded it for anything in the world.
I discovered the Year in Japan (YiJ) program, and it was one of the best decisions I've ever made.
When I was done with YiJ, I tearfully said goodbye as I had one more year to complete at my home university. This wasn't the end, though. No, I knew I wanted to go back to Japan. While working on my last year of schooling, I went through the rigorous waiting process of applying for the Japan Exchange and Teaching (JET) Programme, which I'm thankful to say I was accepted into. I spent my 2015-2016 year in Fukui, Japan, living in a small city called Sabae and teaching in an even smaller town called Asahi. If I thought studying abroad in Japan was amazing, being able to live on my own was even more so. I delved even deeper into the culture and language than ever before because I wasn't surrounded by foreigners, living in the inaka (countryside) of Japan. I met some of my best friends, and even family, while living there. One of the towns where I taught was where the birth of taiko was, so it seemed meant to be. I may have only spent one year there, but I am already making plans on how to get back to Japan when the time is right. My word of advice is this, however cliché it may sound: Follow your dreams. Even if you are scared, dive in. You never know how it may change your life. Also, work hard. People will realize your efforts and you will have the most rewarding experiences because of it, some that no one else will ever be able to say they've had. Lastly, have fun! You will never get this time back, so make the most of every moment. I know I can look back and not regret anything, and I hope you do the same.