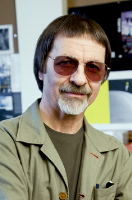 Contact Information
School of Architecture
University of Illinois
117 Temple H. Buell Hall
Champaign, IL 61820
Additional Campus Affiliations
Professor, School of Architecture
Edgar A. Tafel Endowed Chair, School of Architecture

Recent Publications
Bognar, B. (2018). BEYOND JAPAN: Japanese architects in a global world. [S.l.]: Routledge.
Bognar, B. (2013). Architectural Guide: JAPAN. Berlin: DOM publishers.
Bognar, B. (2012). El Orden Nipón de las Cosas. Barcelona: Arquia.
Bognar, B. (2012). Nikken Sekkei at Home and in the Global World of Today. Nikken Journal, 13, 22-23.
Bognar, B. (2012). The Resilience of Japan and Japanese Architecture: Some Thoughts and a Message in the Wake of the Great East Japan Earthquake and the Ensuing Human and Environmental Tragedy. KE, 1-5.